5 Considerations for a New Washer and Dryer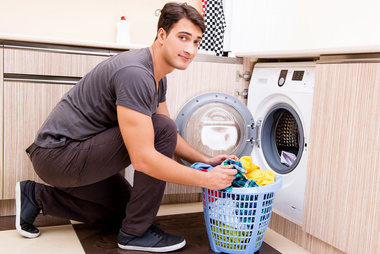 You'll find out that times have changed dramatically and for the better when it comes to washer-dryer technology. In fact, the choices can be overwhelming. Here are five things you need to consider.
Front Load Versus Top Load
Top-loading washers are the ones you grew up with (if you were lucky enough to have a washer and dryer in the house). You can still get new models of top-loading washers, but they are becoming outdated. They are less efficient than front-loading washers, which are the trend for modern households. At the same time, if you are trying to save on costs, they are the cheaper option, averaging around $250.
Because front-loading washers are more efficient and have higher agitation speeds, they cost more than top-loading washers. Spin cycles are quieter even though the speeds are higher on front-loading washers. High-speed cycles help get clothes cleaner and use less water.
Thinking About Size
Today, you can find washer-dryer combinations in many different sizes. Some are smaller. Stackable washer and dryer combos, for example, are fit for small spaces and apartments. Others are oversized — able to hold multiple loads. The typical washer basket is about 27 inches deep, but some are bigger, suitable for large families
Picking the Right Features
New stainless steel washer tubs last longer and absorb odors. Some dryers come with a special rack for drying delicate items like shoes and sweaters. Here are some of the other newer features you can choose from:
Gas Versus Electric. High-efficiency gas dryers reduce utility bills and dry clothes faster.
More Temperature Settings. New temp settings include allergen and sanitizing settings as well as steam heat to get clothes cleaner.
Specific Wash Settings. Modern washer-dryers have quick-wash settings, delicate cycles, extra rinse cycles, presoak cycles, bleach and softener dispensers, and so on.
High-tech Features. Delayed start to avoid peak-hour usage, self-cleaning technology and smartphone-enabled alerts as well as start/stop, load sensors, moisture sensors and wrinkle-prevent dryer features are just some of the available high-tech extras.
As you decide on features, think about whether or not you need every single high-tech extra that you can buy. Will you actually use them? Some new features you should take advantage of are energy-efficient machines and noise-reduction technology. Others may just be nice to have but not necessary, if you want to save money.
Warranty Terms
Most new washers and dryers come with at least a one-year warranty. Make sure that if you buy high-tech washers and dryers, your warranty covers repairs for tech-enabled features.