Looking to add some interest to your kitchen but aren't sure where to start? Many people choose to paint their cabinets. But that can be a painful undertaking. A growing trend is colored ranges; they're a great way to keep a sleek profile in your kitchen while integrating a standout pop of color.
 "For those of us who survived avocado green and harvest gold kitchens of the '70s, it's no wonder neutral appliances have anchored kitchens for the past few decades, From bisque and white of the '80s and '90s to modern stainless steel, homeowners have been wary of new appliance colors for a long time. But after a long break from more vibrant appliance colors, trends are shifting back in that direction.
Here are a few ranges that will get you inspired to bring a little color into your kitchen.
KitchenAid commercial-style ranges come in blue and red in addition to black, white, and stainless, and they are among your more inexpensive options for a colored range; a 30" four-burner dual fuel freestanding range is about $4,800.

In addition to stainless steel, black, and white, Viking also offers apple red, cobalt blue, grey, and burgundy in their traditional line. The distinctive Tuscany Series has fewer color options – dark blue, antique white, graphite black, and bordeaux – but brings a unique European look to the kitchen.

Lacanche's Chassagne is a French range that comes in a variety of colors. The cost – this version is $9,600 – may give you pause, but the function is preferred by chefs around the world, sizes are available from a compact 28 inches to a massive 87-inch version, and the color options go beyond the norm to include pink, orange, pea green, and sky blue.
"Available in many different styles and colors, the Lacanche ranges can be integrated into any kitchen design, Hand-made in the village of Lacanche, in the heart of Burgundy, France, and custom-built to your exact specifications, each Lacanche range is built to please the most demanding chefs and cooking enthusiasts. Available in an endless array of sizes and configurations, a Lacanche range can be had in all-gas, dual-fuel, or a combination of gas & electric ovens!"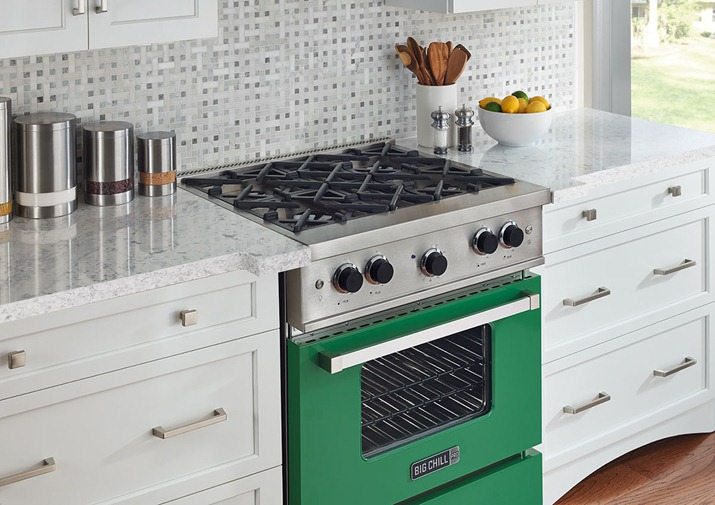 Big Chill is a favorite of designers and homeowners thanks to their endless array of choices. "I love that they don't have just one style of gas stove," said Vintage Revivals. "They have a Pro line (more modern), a Retro line, and a Classic line (you'll LOVE this one if you've been lusting after a La Cornue but choke when you see the price)."
For gourmet chefs, perhaps nothing inspires like a La Cornue range. You can get one for under $7,000…or you can buy one that costs as much as a home. La Cornue, which has been handcrafting ovens for more than a century in the French countryside town of Saint-Ouen-l'Aumône, plays upon that emotional connection by engraving each range with a customer's family name or crest, and offering customizable features that are completely personal, such as an indoor gardening system or wine cooler that's integrated into the brand's island module, ranging from $168,000 to more than $500,000.

Bertazzoni is another Italian brand, and their heritage series is priced at $10,500, "with a striking finish that's a bit textured in matte burgundy, cream, or black that mimics the look of the brand's first-ever wood-burning stove, but even its less expensive models employ a precise technique," said Architectural Digest. "Ovens in the Professional series, for example, are painted in the same manner as a luxury Italian sports car. An artisan applies a layer of paint in seven different color options that are sealed with a gloss lacquer." Colors outside of the expected standards include yellow, orange, red, burgundy, and turquoise."
"Create a unique kitchen style with over 750 colors, 10 metal trims, and nearly infinite configuration possibilities. You can also send them a color and they will create a custom finish "for a look that is uniquely your own."
The sheer variety of Bluestar ranges makes it possible to bring to life pretty much anything you envision. This sleek orange range is a modern showpiece.

This more ornate version shows how further customizations in the knobs and hood can create an eye-popping look.