Many DIY projects can be a lot more complicated than they appear on the popular home improvement shows. One of the things that isn't often mentioned is that there are a lot of projects that require a permit before you get started creating a magazine-worthy space.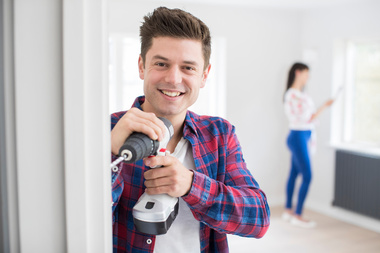 A building permit provides you with protection. It ensures that your work is up to code and no laws are being broken in the process. Permits also spell out who has liability if there are issues experienced by the municipality or your neighbors. Additionally, un-permitted work (like plumbing or electrical) can result in a denied homeowner's insurance claim if there is a catastrophic event like an electrical fire or water damage.
Un-permitted work can lead to a canceled insurance policy or even fraud charges for failing to disclose additions to your home. It can also lead to complications or even cancel the sale of your home down the line. During the home inspection and approval process of a sale, it will be necessary for you to produce all the permits that are on file. Without them, the buyer's lender may be hesitant to give the loan.
Before you pick up a saw, nail gun or screwdriver, take a trip to your local government's permit office. Each location will have its own rules for what projects will require a permit, so it is important to check. Permits apply to both interior and exterior projects like replacing windows or a bathroom remodel. If you hire a contractor for the job, they should know what permits are needed and will fill out and file the necessary paperwork. If you're undertaking a DIY repair, protect yourself by getting educated on what types of permits you may need.
Here is a brief list of projects that typically require a building permit:
Fences. Before you put in a new fence, check with both your local government and your homeowner's association (if applicable). While not all fences need a permit, there are often height restrictions, or you may be limited to a particular type of fencing and specific landscaping.
Remodeling the kitchen/bathroom. This includes moving any interior or exterior plumbing or wiring and knocking down interior walls. If you plan on installing a gas stove, this too will require a permit.
Changing the footprint.  Any change to the footprint of your home will require a permit. This encompasses building a deck, adding a room, a garage or shed or even constructing storm shelters and safe rooms.
Putting in new windows or doors.
Putting on new siding.
Installing water heaters or ventilation projects
Not all home improvement projects will necessitate filling out paperwork. If you're redecorating the living room and it only includes paint and wallpaper, new flooring or carpet, it's unlikely that you'll need a permit.
So before you start your next project, make sure you've investigated the proper permits. If you have any questions, feel free to get in touch and I will guide you to the right answers.